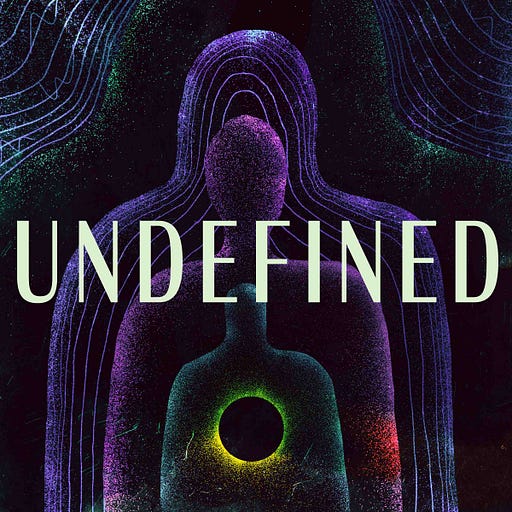 Feb 16, 2022 • 1HR 6M
Connecting to Your Whole Self
My Interview with Arianna Maag, Human Design Reader and Employee Experience Program Manager at Microsoft
Where is the boundary between our authentic selves and our conditioned selves? How do we shed the definitions society creates to get back to our core self? What does it mean to be true to yourself? On Undefined, our host, Marisa Tashman, shares her conversations with thought-leaders, change-makers, and passion-players who have journeyed to return to the core of who they are. Together we explore authenticity, identity, core beliefs, definitions, conditioning and societal programming, social justice, relationships, spirituality, mindfulness, wellness, and self-love.
Hi Friends! Today, I am excited to share my conversation with
Arianna Maag
, a Human Design reader and Program Manager of Employee Experience at Microsoft.
Arianna and I met each other through our mutual friend, Michelle Pellizzon (founder of Holisticism and one of the most magical humans I know...truly she's a wizard/witch), who introduced us when I ventured up to Portland at the start of 2021. From our first coffee date (very early in the morning...thank you, Arianna, for being down with that), we instantly connected. Both Arianna and I have two very distinct sides to ourselves and I admire how Arianna has made a career out of both. On the one hand, she is a boss at Microsoft, creating positive employee experiences in a corporate environment. On the other, she is a mystical Human Design reader, using her intuition and knowledge about how the stars and planets line up to help people connect with themselves. Both sides involve people, which is not surprising if you know Arianna - an extremely warm, joyful, host of all gatherings. Arianna and her husband, Eric, moved from the Bay Area to Newberg, Oregon, a town about an hour away from Portland, in wine country. On their property, which features a log cabin house, you can also find grape vines and garden snakes underneath rocks surrounding a picnic table where they host gatherings consisting of farm-fresh food and playful company. The couple, with their two adorable boys, models how many of us dream to live - escaping the city life, to a life more full of authentic and slowed-down connection to the earth.
Meeting Arianna has inspired me to discover how I can feel more connected to both sides of myself. As many of you know, one part of me practices law, while the other practices creativity and spirituality. If you spoke to me a few years ago, you'd likely know that the highly rigid and diligent attorney dominated, completely overshadowing the creative and spiritual. Throughout the past few years, however, each side has learned the language of the other. They can speak to each other now. Are kind to each other. And, most importantly, they understand that although they may look, act, and think differently, they can bring each other into their own worlds without it being so scary. With the creative and spiritual valuing deep human connection, she brings that into the rigid through her mentor/mentee relationships at work, through her relationships with her investigation teams, and through connecting with her clients in an impactful way. On the flip side of the coin, with the rigid and "type A" valuing systems of organization, she brings processes to her creative art-making, diligence to her self-care practices, and accountability to how she connects with a higher power.
---
We all have these two sides to ourselves. One side is no better, or stronger, or more successful than the other. I encourage you to reflect on the following, which I hope will bridge the connection between the two seemingly distinct sides:
What are three adjectives that describe each side? Or perhaps you have more than two sides. Describe all of them.

Who inspires you to live your life in a more integrated way? Which qualities of this person can you adopt? How?

How do you think each side could show more compassion to the opposing side? How do they help each other?
---
Some Related and Fun Links:
---