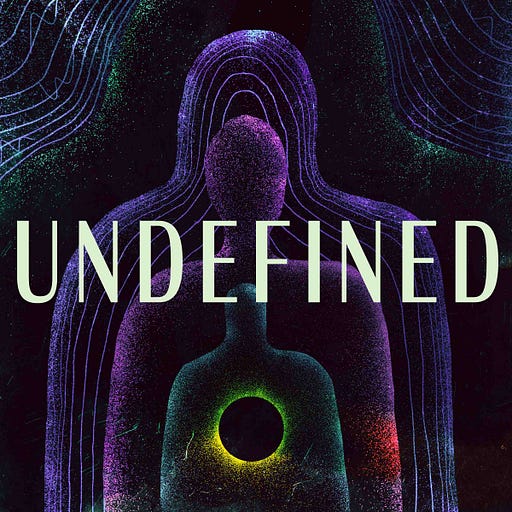 Nov 23, 2021 • 1M
Surrendering In The Wilderness
My Conversation with Dan Doty
Where is the boundary between our authentic selves and our conditioned selves? How do we shed the definitions society creates to get back to our core self? What does it mean to be true to yourself? On Undefined, our host, Marisa Tashman, shares her conversations with thought-leaders, change-makers, and passion-players who have journeyed to return to the core of who they are. Together we explore authenticity, identity, core beliefs, definitions, conditioning and societal programming, social justice, relationships, spirituality, mindfulness, wellness, and self-love.
Hello hello! Hopefully this e-mail will give your brain a little break from withholding from all of the holiday-related shopping sale e-mails flooding your inbox…
Today, I released the 12th episode of Undefined, featuring my conversation with Dan Doty, a coach and guide for men, organizations, and leaders. Dan's programs focus on a unique blend of wilderness expeditions, deep somatic awareness, and emotional maturity. Before venturing out on his own (semi-pun intended), he produced and directed a wilderness TV show called Apex Predator and founded a men's group/community platform called Evryman. Dan has been featured on many other podcasts and media outlets, including Joe Rogan, the Today Show, the New York Times, Men's Health, among others. I was introduced to Dan by my friend Jon Marro, thanks Jon :), who I interviewed on episode 3 of the pod (that interview took place inside a barn, so if you're in the mood to hear a cow moo, queue it up). As you may guess, my podcast can be found where they're normally found: Spotify, Apple, and wherever else you might listen. And I successfully figured out how to include a short clip in this newsletter (woot woot so tech savvy).
In this episode, Dan and I share conversation about vulnerability—particularly male vulnerability—and how Dan returned to himself through somatic meditation. But what stuck with me most was our conversation about surrendering in the wilderness. I had an experience last summer when I camped alone in the Santa Cruz mountains. Even though I had pepper spray and a very blunt pocket knife with me, I slept in a vulnerable position. The walls of my tent easily could be cut through—or clawed through. My outdoor survival skills do not receive an A+*. And I regularly play out very vivid narratives of someone breaking into my house by climbing into my bedroom via a rope attached to my balcony spy style. And those narratives come up when I'm home. In a legitimate structure. Not a tent. But despite that, I somehow surrendered to the unknown, the uncertainty, and the darkness that fell over my camp site as the sun hid behind the mountains. I felt at peace. At home. And my mind finally fell silent.
Ironically, as I proceeded up the coast and stayed in an airbnb (not a tent) in Arcata, California, my intruder anxiety ran rampant. Noticing this paradox, I questioned whether I have an allergy to modern society. It felt effortless to feel calm when surrounded by trees. Only when I removed myself from our human world, did I realize that the barriers to this peace that normally do exist only exist because of the human world itself. So of course it felt effortless to surrender to presence, to the beauty that surrounded me, when the human world grew farther away. And now that I'm back in my human world, the challenge I face is bringing this ease of surrender to my living room, to my office, to restaurants, to the 405 freeway, and to everywhere else I go that feels far away from the forest. I remind myself that this ease of surrender exists within me regardless of where I am. As Dan talks about in this podcast episode, he found surrender while meditating in a NYC building. While hearing the sirens and the traffic and the helicopters and the honking, Dan surrendered and returned to himself. Just as he did in the wilderness.
On a related note, Tabor is now up to 10 minutes of alone time without having a full blown panic attack and destroying the house. Tabor is a dog, not a human. But a very emotional boy and an old soul. And for those of you who have met him, a "leaner." All we know about his first year of life is that he spend it as a stray in El Centro, California. Perhaps Tabor is craving the wilderness. Perhaps he finds it easier to surrender in the trees, away from our human world. Just like I do. As his path to surrender regardless of his environment becomes easier, mine does too. Photo of him at the beach below.
And, lastly, some fun things I've recently read:
This fascinating article about Otzi the Iceman

Anyone else feel the intensity of last week's full moon/eclipse? Chani always knows best.

Affirmation from Scientific Reports that adults who microdose psychedelics report health related motivations and lower levels of anxiety and depression compared to non-microdosers. Who's down?
I hope everyone has a wonderful Thanksgiving holiday, surrounded by love and family and friends. And, of course, I wish you all ease of surrender to quiet your minds and return to yourselves.